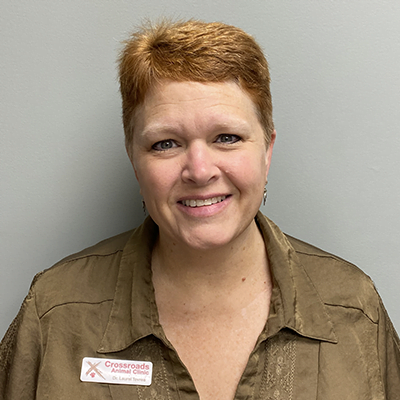 Veterinarian/Owner
Dr. Tovrea
Dr. Laurel Tovrea is a 2004 graduate of the Ohio State University College of Veterinary Medicine. GO BUCKEYES!! She has practiced veterinary medicine in the Fort Walton Beach area since her graduation, thanks to the United States Air Force. Now she can't imagine living anywhere else!
She lives in Shalimar with her husband, Gavin, and her younger daughter, Faith. Her older daughter, Honour, graduated from Mississippi State University in 2021. Hail State! She also has four furry feline children: Kiki, Jeter Bean, Cowboy Dan, and Furrgus.
Dr. Tovrea is very active in her church and sings in the Chancel choir, Rejoice women's ensemble, and on the Connect Praise Team. She plays in the handbell choir and is one of three Youth Choir moms. She also serves on the Board of Directors for the Emergency Veterinary Clinic in Niceville.
Her special interests at work include internal medicine, soft tissue surgery, small mammal medicine, and dentistry.
She is a member of many professional organizations:
American Veterinary Medical Association
Florida Veterinary Medical Association
American Association of Feline Practitioners
Association of Exotic Mammal Veterinarians
American Veterinary Dental Society
Association of Sugar Glider Veterinarians
Miracle Strip Veterinary Medical Society
A recommended veterinarian on the House Rabbit Society website
Dr. Tovrea truly loves her patients and can't imagine doing anything else!
Practice Manager
Melanie is the person to talk to about anything related to the business side of things. She comes from an accounting background but her love of animals led her to us. We don't know what we would do without her!
Receptionists
Lisa, Jo, and Kristen are the first friendly faces to greet you as you enter the clinic! They will check you in and show you around. Just ask for a tour! They can also answer any questions that you might have and check you out when your pet's appointment is done.
Technicians
Amber, Elizabeth, Brenda, Felicia, Sherri, Niki and Tabitha are our technical staff. With over 60 years of experience between them, these knowledgeable ladies can answer any question you throw at them! They're the doctor's assistants in everything, from routine appointments to surgery and dentistry. They're also the ones snuggling your pet as it recovers from anesthesia!